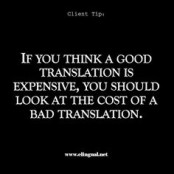 If you're trading internationally, or in a multilingual market (like South Africa), you need translation services. Building a long-term partnership with a professional agency is the best way to avoid pitfalls and get the edge on competitors. Here are five reasons why:
We've done this before
You'll benefit from experienced language professionals who've worked with similar companies, on similar projects and who speak the language your customers use every day.
Save in the long-run
As internal resources become stretched, translation management often gets neglected. Deadlines get missed, jobs get rushed, mistakes happen. Outsourcing becomes the intelligent and less costly solution in the long-run.
The right tools
A professional translation agency has access to a range of tools for managing translation projects. The first step for any company that's serious about language support is to begin building translation memories. They help drive down your long-term costs and support consistency.
Reliability  
Managing translation internally becomes a problem if staff members leave, teams change, or products change. So how do you make sure translations aren't impacted? The solution is language standardisation and control, an important area where a professional translation agency can help.
Efficient & flexible
Your internal resources should be focused on improving your business, not on translations. Using a professional translation agency mitigates risk, requires less upfront investment, and is much more flexible.
The advantages of using a professional translation agency are clear. If you have any questions, please feel free to chat with one of our team: info@web-lingo.com