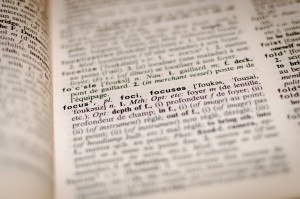 A glossary is one of the unsung heroes of the translation industry.
All content will have a certain amount of prevalent terms. Perhaps they are slogans, product names, company details, product descriptions etc.
By extracting these terms, or phrases, and pre-translating them before the bulk of the translation requirements occur, you can not only save on time, but vastly improve the translation quality you'll receive.
The first step is to extract all the prevalent terminology and/or phrases form the content requiring translation. Most TMS's (Translation Management System) have this ability.
Once the prevalent terms have been identified, it's handed over to the team of professional linguists that will suggest translations for those words and/or phrases.
The translated glossary can then be proofread by an independent team of linguists within the agency or handed over to the brand and/or company to approve.
This is incredibly important, as once the glossary translations are approved by all parties, they can be used with confidence and committed to the TM.
Glossaries can always be updated and thereby the TM's can be updated, saving time, improving translation quality and ultimately making the process more cost-effective.
Until next time,
Jim
For more information, get in touch with Web-Lingo for 89 languages, a fast turnaround, a same-day quote and a personal service that is second to none.