Applications are readily available on Google Play Store and the Apple Store. It certainly begs the question: How do you stand out? One of the easiest ways to do this is to translate your App into multiple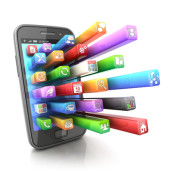 languages using professional localisation services.
An App that is multilingual can grow your potential user base and monthly subscribers. That is something most App creators would like to see, not to mention the advertising possibilities within the App. If you cast a bigger net, you're improving your chances to catch what you're looking for.
Provided, of course, that the localisation of the App is done by professional translators. They should be based in the country of their respective mother-tongue and the correct proofreading, editing and testing of the Application should be performed.
Feedback on the localisation of your App is vital to ensure your content creates a new voice and tone that is correctly written for your target audience.
Multilingual applications create an opportunity for your potential users to relate to your brand and App in their own mother-tongue. It adds trust and re-assurance to your brand in foreign markets.
Our translation management system is built to accommodate your App files for ease of localisation. We translate your files with instant feedback, comment and review capabilities. There is no need for sending multiple files back and forth.
Simply upload your files via our AVI tool and we'll assign the professional linguists with relevant experience in your field to localise the content.
We regularly work within the following Mobile file formats:
| | |
| --- | --- |
| Mobile Formats: | Extension |
| Android | .xml |
| iOS | .strings |
| Blackberry | .rrc |
| Symbian | Symbianresourcefiles |
| Windows Phone 7 | .resx |
| Bada | .xml |
| Firefox OS | resource files |
Whilst our software localisation capabilities extend to the following formats:
Software Formats:
Extension
Microsoft .NET
.resx
Java Properties
.properties
GNU GeText
.po ; .pot
Flex Properties
.properties
Ruby on Rails & YAML
.yaml
Qt
.ts
DKLang
.dklang ; .lng
XUL
.dtd
Google Chrome Extension
.json
Windows
.rc ; .resw ; .resjson
Joomla
.ini
Generic INI
.ini
Generic JSON
.json
Generic XML
.xml
NSIS Installer
.nsh
WiX Installer
.wxl
 Should your current format not appear here, please send an e-mail to info@web-lingo.com, or call us on +27217890690. We'll work on a solution in taking your Application worldwide.
We're constantly striving to offer businesses, brands, products, websites and Apps the chance to grow without borders or language barriers. Our App localisation services are a prime opportunity to do just that.